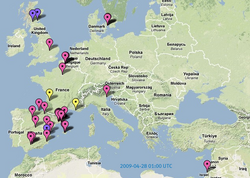 Europe is a continent in the northern hemisphere. It stretches from Russia and the Black Sea in the east, to the Mediterranean Sea in the south, to the Atlantic Ocean in the west and the Arctic Ocean to the north.
News
[
]
April 30: in The Netherlands Swine Flu has been confirmed on a three-years-old boy.
April 28: In Belgium tests are being carried out on six suspected cases.
April 27: There are confirmed outbreaks of Swine flu in Spain and the United Kingdom, and cases are suspected in France.
The Associated Press reports that the European Union's health commissioner urged Europeans "to postpone nonessential travel to the United States or Mexico due to swine flu".
Information resources
[
]
The following is a list of countries and territories of Europe, with links to official government websites, ministries of health, official bulletins, and policy documents pertaining to influenza A(H1N1), avian influenza, and pandemic preparedness. (Lists are to be located on subpages of individual countries, transcluded onto this page.)
For links to brochures, fact sheets, posters, and audiovisual presentations on influenza in over one hundred different languages, see Educational materials.
Name in English and other, official, languages of the country
Status and associations
Influenza information sources

---

A

[

]

' '

---

|-

 Albania – Republic of Albania '

'''

Albanian

: Shqipëria – Republika e Shqipërise '

'|valign=top style="text-align:left; font-size: 90%;"|United Nations

'

'|-

'

---

'|-

 Andorra – Principality of Andorra ''''

''''''

Catalan

: Andorra – Principat d'Andorra ''''

''''|valign=top style="text-align:left; font-size: 90%;"|United Nations

''''

''''|-

''''

---

''''|-

 Austria – Republic of Austria '''''''

'''''''''

German

: Österreich – Republik Österreich '''''''

'''''''|valign=top style="text-align:left; font-size: 90%;"|United Nations European Union

'''''''

'''''''|-

'''''''

---

'''''''|-

'''''''

B

[

]

---

 Belarus – Republic of Belarus

Belarusian

: Беларусь – Рэспубліка Беларусь

Bjelarús – Respublika Bjelarús

Russian

: Беларусь – Республика Беларусь

Belorussiya – Respublika Belarus

United Nations

---

 Belgium – Kingdom of Belgium

Dutch

: België – Koninkrijk België

French

: Belgique – Royaume de Belgique

German

: Belgien – Königreich Belgien

United Nations

European Union

---

 Bosnia and Herzegovina – Bosnia and Herzegovina

Bosnian

and

Croatian

: Bosna i Hercegovina

Serbian

: Bosna i Hercegovina

United Nations

---

 Bulgaria – Republic of Bulgaria

Bulgarian

: България – Република България

Bălgarija – Republika Bălgarija

United Nations

European Union

---

C

[

]

---

 Croatia – Republic of Croatia

Croatian

: Hrvatska – Republika Hrvatska

United Nations

---

 Cyprus – Republic of Cyprus

Greek

: Κυπρος – Κυπριακή Δημοκρατία

Kypros – Kipriakí Dimokratía

Turkish

: Kıbrıs – Kıbrıs Cumhuriyeti

United Nations

European Union

---

 Czech Republic

Czech

: Cesko – Ceská republika

United Nations

European Union

---

D

[

]

---

 Denmark – Kingdom of Denmark

Danish

: Danmark – Kongeriget Danmark

United Nations

European Union Autonomous regions:

---

E

[

]

---

 Estonia – Republic of Estonia

Estonian

: Eesti – Eesti Vabariik

United Nations

European Union

---

F

[

]

---

 Finland – Republic of Finland

Finnish

: Suomi – Suomen tasavalta

Swedish

: Finland – Republiken Finland

United Nations

European Union Autonomous region:

---

 France – French Republic

French

: France – République française

United Nations

European Union Overseas regions:

French Guiana

Guadeloupe

Martinique

Réunion

Territories:

---

G

[

]

---

 Georgia

Sak'art'velo

United Nations

Autonomous divisions:

---

 Germany – Federal Republic of Germany

German

: Deutschland – Bundesrepublik Deutschland

United Nations

European Union

---

 Greece – Hellenic Republic

Greek

: Ελλάδα – Ελληνική Δημοκρατία

Elláda – Ellinikí Dimokratía

United Nations

European Union Autonomous state:

---

H

[

]

---

 Hungary – Republic of Hungary

Hungarian

: Magyarország – Magyar Köztársaság

United Nations

European Union

---

I

[

]

---

 Iceland – Republic of Iceland

Icelandic

: Ísland – Lýðveldið Ísland

United Nations

---

 Ireland

Irish

: Éire

English

: Ireland

United Nations

European Union

---

 Italy – Italian Republic

Italian

: Italia – Repubblica Italiana

United Nations

European Union Autonomous regions:

Aosta Valley

Friuli-Venezia Giulia

Sardinia

Sicily

Trentino-Alto Adige/Südtirol

---

Ivory Coast Côte d'Ivoire

---

K

[

]

---

 Kosovo – Republic of Kosovo

Albanian

: Kosovës – Republika e Kosovës

Serbian

: Косово – Република Косово

Kosovo – Republika Kosovo

De facto independent state recognised by

Template:Kosovorecognition

UN member states and by the Republic of China.

---

L

[

]

---

 Latvia – Republic of Latvia

Latvian

: Latvija – Latvijas Republika

United Nations

European Union

---

 Liechtenstein – Principality of Liechtenstein

German

: Liechtenstein – Fürstentum Liechtenstein

United Nations

---

 Lithuania – Republic of Lithuania

Lithuanian

: Lietuva – Lietuvos Respublika

United Nations

European Union

---

 Luxembourg – Grand Duchy of Luxembourg

Luxembourgian

: Lëtzebuerg – Groussherzogdem Lëtzebuerg

French

: Luxembourg – Grand-Duché du Luxembourg

German

: Luxemburg – Großherzogtum Luxemburg

United Nations

European Union

---

M

[

]

---

 Macedonia – Former Yugoslav Republic of Macedonia

Macedonian

: Македонија – Република Македонија

Makedonija – Republika Makedonija

United Nations

---

 Malta – Republic of Malta

Maltese

: Malta – Repubblika ta' Malta

English

: Malta – Republic of Malta

United Nations

European Union

---

 Moldova – Republic of Moldova

Moldovan

: Moldova – Republica Moldova

United Nations

Autonomous region:

---

 Monaco – Principality of Monaco

French

: Monaco – Principauté de Monaco

United Nations

---

 Montenegro

Montenegrian

: Црна Гора – Црна Гора

Crna Gora – Crna Gora

United Nations

---

N

[

]

---

The Netherlands – Kingdom of the Netherlands

Dutch

: Nederland – Koninkrijk der Nederlanden

United Nations

European Union Countries:

---

 Norway – Kingdom of Norway

Norwegian

: Norge – Kongeriket Norge

United Nations

---

P

[

]

---

 Poland – Republic of Poland

Polish

: Polska – Rzeczpospolita Polska

United Nations

European Union

---

 Portugal – Portuguese Republic

Portuguese

: Portugal – República Portuguesa

United Nations

European Union Autonomous regions:

---

Pridnestrovie Transnistria

---

R

[

]

---

 Romania

United Nations

European Union

---

 Russia – Russian Federation

Russian

: Россия – Российская Федерация

Rossiya – Rossiyskaya Federatsiya

United Nations

Associated/autonomous republics:

---

S

[

]

---

 San Marino – Republic of San Marino

Italian

: San Marino – Repubblica di San Marino

United Nations

---

 Serbia – Republic of Serbia

Serbian

: Србија – Република Србија

Srbija – Republika Srbija

United Nations

Autonomous regions:

- Vojvodina

---

 Slovakia – Slovak Republic

Slovak

: Slovensko – Slovenská republika

United Nations

European Union

---

 Slovenia – Republic of Slovenia

Slovenian

: Slovenija – Republika Slovenija

United Nations

European Union

---

 South Ossetia – Republic of South Ossetia

Ossetian

: Хуссар Ирыстон – Республикæ Хуссар Ирыстон

Xussar Iryston – Respublikæ Xussar Iryston

Russian

: Южная Осетия – Республика Южная Осетия

Yuzhnaya Osetiya – Respublika Yuzhnaya Osetiya

De facto independent state only recognised by Russia, Nicaragua, Abkhazia and Transnistria.

---

 Spain – Kingdom of Spain

Spanish

: España – Reino de España

United Nations

European Union

---

 Sweden – Kingdom of Sweden

Swedish

: Sverige – Konungariket Sverige

United Nations

European Union

---

 Switzerland – Swiss Confederation

German

: Schweiz – Schweizerische Eidgenossenschaft

French

: Suisse – Confédération Suisse

Italian

: Svizzera – Confederazione Svizzera

Raeto-Romance

: Svizra – Confederaziun Svizra

Latin

: Confoederatio Helvetica

United Nations

---

T

[

]

---

 Transnistria – Transnistrian Moldovan Republic (Pridnestrovie, Trans-Dniester)

Russian

: Приднестровье: Приднестровская Молдавская Республика

Pridnestrovye – Pridnestrovskaya Moldavskaya Respublika

Ukrainian

: Придністров'я: Придністровська Молдавська Республіка

Pridnistrov'ya – ridnistrovs'ka Moldavs'ka Respublika

Moldovan

: Нистря: Република Молдовеняскэ Нистрянэ

Nistria – Republica Moldovenească Nistreană

De facto independent state, recognized only by Abkhazia and South Ossetia. Claimed in whole by the Republic of Moldova as the Territorial Unit of Transnistria.

---

 Turkey – Republic of Turkey

Turkish

: Türkiye – Türkiye Cumhuriyeti

United Nations

---

U

[

]

---

 Ukraine

Ukrajina

United Nations

Autonomous republic:

---

 United Kingdom – United Kingdom of Great Britain and Northern Ireland

English

: United Kingdom – United Kingdom of Great Britain and Northern Ireland


United Nations

European Union Commonwealth of Nations Overseas territories/dependencies:

---

V

[

]

---

 Vatican City – State of the Vatican City

Latin

: Civitas Vaticana – Status Civitatis Vaticanæ

Italian

: Città del Vaticano – Stato della Città del Vaticano

Widely recognized country.

The  Holy See, a sovereign entity recognized by 176 countries, administers the territory of Vatican City; the Holy See is a permanent observer of the United Nations. Vatican City is governed by officials appointed by the Pope, with the latter being the Bishop of the Archdiocese of Rome and therefore ex officio sovereign of Vatican City.


---